WILMINGTON – "Some people say the eyes are the window to the soul," said local artist Greyson Davis. "Bla blah blah blah blah. The smile is where it's at."
An art teacher at GLOW Academy, Davis — also known as Haji Pajamas, Haji P., HP Fangs or Happyfangs — hopes to spread smiles in the city's young artists. He has a new studio space in Designworx that houses around a dozen artists and makers. Do Art officially kicks off on Saturday at 16th Street in the Cargo District.
CONTINUE READING: In other art news
His name derives from Davis' response to everything: "Bored? To make art! Broke? To make art! brain fart? make art!" he said.
He's already enrolled seven children — the youngest 7, the oldest 17 — and it's only the first week he's been in his 200-square-foot shipping container.
A few months ago, Designworx held a competition for four months of free studio space in the warehouse (which was also an open studio space for artists 20 years ago, before "coworking" became part of the entrepreneurial lexicon). Followers on Instagram had to tag the name of a local producer they wanted to see to join the dozen artists who filled the space. The five best then presented their ideas to the Designworx team.
Davis said he envisioned a place that strengthens the skills of young artists and gives them the opportunity to explore the business side of being an artist – something he only learned later in his career.
"There's so much in it," Davis said. "How to use their skills in a way that opens up tangible opportunities and gives them a place to exhibit and sell their art, so they can build confidence in their skills and gain early experience in presenting."
Davis has a lot of knowledge to pass on. In the last ten years he has presented several art exhibitions, illustrated a children's book and collaborated on comics. He has exhibited public works in the community: Black Lives Do Matter at Jervay Freedom Park and billboards that say "SMILE" accompanied by a happy face.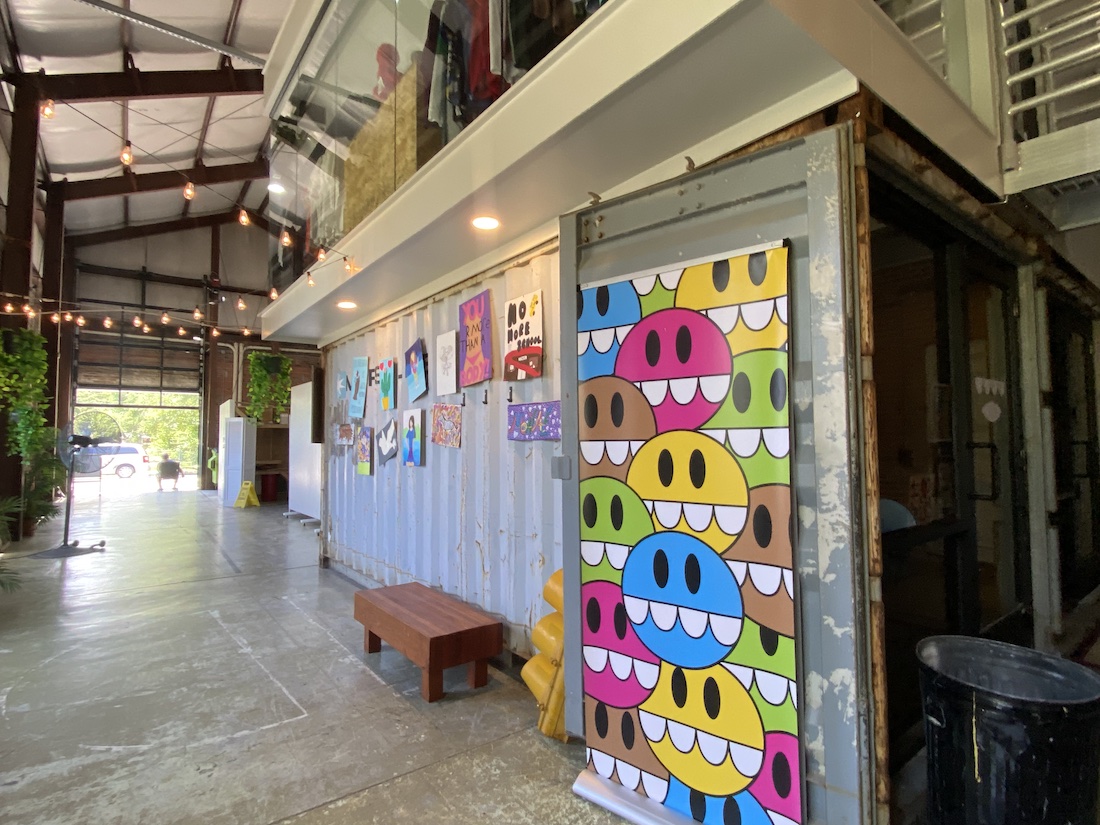 As a child, Davis first picked up a marker — he also uses acrylic pens — and began writing in his signature cartoon style. He said kids always made fun of his "teeth being bigger than his head," but he decided to base it on that rather than fret about it. Today, that smile — sometimes speckled with gold teeth — is an integral part of his creative output.
"It became my thing," Davis said. "I want to encourage children that their insecurities can become their superpowers. What sets her apart is her human artistry."
As an adult, Davis worked in foster care and used art as therapy to help overcome personal mental health issues. It also created its happy escape platform. He said he didn't even consider pursuing it as a career until he was approached in 2017 to teach at the all-gender charter school GLOW Academy.
"I loved what I did in foster care," he said, "but it's a whole different thing when you can make a career out of something you loved as a kid. I just want a fun place to create, view and participate in art."
The studio can accommodate three students at the same time.
One wall is lined up with Davis's work – pop art featuring a school of colorful, funky fish, a fizzy beer with "X" eyes, and a caterpillar with the phrase "Stay Hungry." Street art also shows up with graffiti paintings or phrases that look "tagged," including one that reads "School House Shot."
He ended the latter a few weeks ago after the shooting in Uvalde. It pays homage to the famous 'Schoolhouse Rocks' cartoon from the 70's and 80's.
"I was really unsure whether to hang it or not," Davis admitted. "But as a teacher I had to do it."
The words are yellow and the black shading in the "O" represents bullet holes, he explained. A closer look reveals blood splatters and one of the letters represents a victim who survived.
"I thought about that one girl in Texas who pretended to be dead and smeared herself with another student's blood to be sure — that's the 'H,'" he said.
However, Davis refuses to believe that his work is political. He is part of Eighteen Forward, the group behind the Black Lives Do Matter art installation, which caused much controversy in 2020 when it was erected before the council and again in 2021 when they voted to keep it for another year to keep.
"I'm black and I'm a teacher," Davis said. "I see these concerns as human."
It's not obvious when you first look at his work, but Davis' depth goes beyond a happy smile. His subjects can be expressionless or riddled with 'fearful eyes', but still convey happiness with their bold color and happy vibrancy.
Davis said his students didn't need to be interested in cartoons, pop art, or comics to learn from him. He wants to help find a niche of his own. As a teacher, he first assesses children's interests, refines their strengths and voices, and then explores the mediums they prefer. Each lesson is individually tailored to the child.
Do Art will hold exhibitions at the end of each month. The students' creations can already be seen in the main corridor of Designworx on the outer wall of the container. Another wall in his studio is also covered with student art and notes they wrote to him.
One reads: "Mr. G, thanks for being so nice to me! And thanks for the care! I love you – Piper."
"I want it to look like your mom's fridge," he said of his studio. "Mum hangs up the best work – work that is unrefined, absolutely pure and natural."
Students who take Davis classes and participate in art exhibitions are entitled to keep any proceeds from the sales. The teaching artist said his goal is to convey the meaning of values.
"I want to show them the factors to consider when pricing their work: time, materials, talent, effort," he said.
He said one of his students sold a play for $600.
He already has an exhibition planned for August to feature work by his Art Club students – students he began teaching in Year 6 and who are now becoming seniors at GLOW.
"They were the first members of my after-school art club," Davis said. "Over time, it's been less about merging and more about developing working artists."
Under Davis' guidance, young artists have mentored other students, organized arts activities for families, and collaborated on the Black Lives Do Matter wall installation. They also volunteered to help hang State of the Art/Art of the State at the Cameron Art Museum, where Davis himself submitted an artwork.
"Originally I was like, 'Okay, I'm going to show off my technical skills as an artist, so people think I'm actually an artist real artists," Davis said.
But as he began figuring out his museum debut, Davis said he was "bored to tears" trying to do serious figurative work. Instead, he settled back into his pop art sensibility.
"I came in with my picture and the curator was like, 'Oh my god. Is that a butt?'" Davis recalled.
As part of "State of the Art", over 700 artists were able to have their works evaluated by one of three nationwide curators. Davis sat with Dr. Maia Nuku of the Metropolitan Museum of Art, who said she was impressed that Davis drew a butt with a cloud of air coming out of it in just 22 lines.
"I wasn't aware of that," he said. "And my favorite number is 22."
Nuku took selfies with Davis and his work to send to their children. Davis said the best feedback came from her apparent enjoyment while watching.
"She told me that she meets all these artists and doesn't feel like anyone likes her work," Davis recalled, "but told me, 'You enjoy your art, that's the most important thing.'"
Davis said his motto is to produce fun art over beautiful art. It is about bringing liveliness and exuberance into creation.
"Maturity levels are extremely low and the weirdo levels are cranked all the way up," he said. "Actually, it's pretty disgusting."
A grand opening of Do Art will take place on Saturday, June 25 from 6:00 p.m. to 10:00 p.m. Art will be available for sale and interested parties can learn more about the program Davis teaches young people. Some of his students have also made paintings to be auctioned off at the grand opening.
All proceeds from this weekend go back into funding the space; Davis' first month of lease officially begins in September (the competition secured four months of free access). A key goal in launching the space, Davis said, is finding a way to also implement classes for marginalized families facing financial difficulties.
"People are welcome to come in, kick, look at art, or talk about their favorite Whitney Houston songs throughout the day," Davis said. "I will be available for meet and greets, high fives, juggling pigeons and all sorts of fun stuff!"
---
For more information, please contact info@localdailymedia.com
Want to read more from PCD? Subscribe to now and then subscribe to our newsletter, Wilmington Wireand get the headlines delivered to your inbox every morning.