In May, Oscar Morel graduated from Boston University with a master's degree in painting — and looked ahead with some anxious thoughts.
"Every time you close something, there's always the question: What's next?" says Morel (CFA'22), now back at his childhood home in New York City. "It's dark; That's the scariest question anyone could ask you."
It's a shared concern, but in fact the future looks bright for Morel, a mixed media artist who spent his time at the College of Fine Arts creating collages based on scenes from his Bronx neighborhood. From July 14-30, his MFA work will be exhibited alongside that of his classmates at the Morgan Lehman Gallery in Manhattan. He will accept a residency at the Massachusetts Museum of Contemporary Art (Mass MoCA) later this summer and travel to New Hampshire in late fall on a coveted MacDowell Art Fellowship.
At the CFA, Morel studied under "forces of nature" such as Lucy Kim, an associate professor of art, associate professor Paul Karasik, and Josephine Halvorson, a professor of painting and chair of graduate studies in painting. He exploited his surroundings – studios on campus – by reusing other students' discarded paintings and incorporating them into his collages. His efforts saw impressive rewards. His final semester included his work in two exhibitions — one at the historic Piano Crafts Gallery in Boston's South End and the other at BU's Faye G., Jo, and James Stone Gallery — and in May the Boston globe named him one of its "Six Art-School Stars from Around Boston to Watch in 2022". At 24, he was the youngest on the list.
Reusing discarded canvases "was a form of collaboration I had with myself that other artists didn't realise," he says. "Now when I leave this space of immediate collaboration, how will I find it? It's getting interesting; maybe I'll start making my own canvases."
Morel's entry into collage was a combination of inspiration and necessity. That globe notes that when he arrived in town he "brought enough money to pay the rent on an apartment—and that's about all," leaving him without resources to purchase art supplies.
The canvases he used for his pieces were either given to him by students who would otherwise have thrown them away, or they had not been claimed in the college's studios. Morel found that collage as a form lent itself to both tidying up and reuse. Eventually, he focused his technique and conceptual process on the recontextualization of materials, which he likens to the way a music producer uses samples to create a hit song. In Morel's case, he uses the materials to create distinctive slice-of-life scenes. His collage Knocks on the door shows a man sitting in his apartment with his dog, and The Lease of the Lobby Stove shows a harrowing incident between two police officers and a civilian.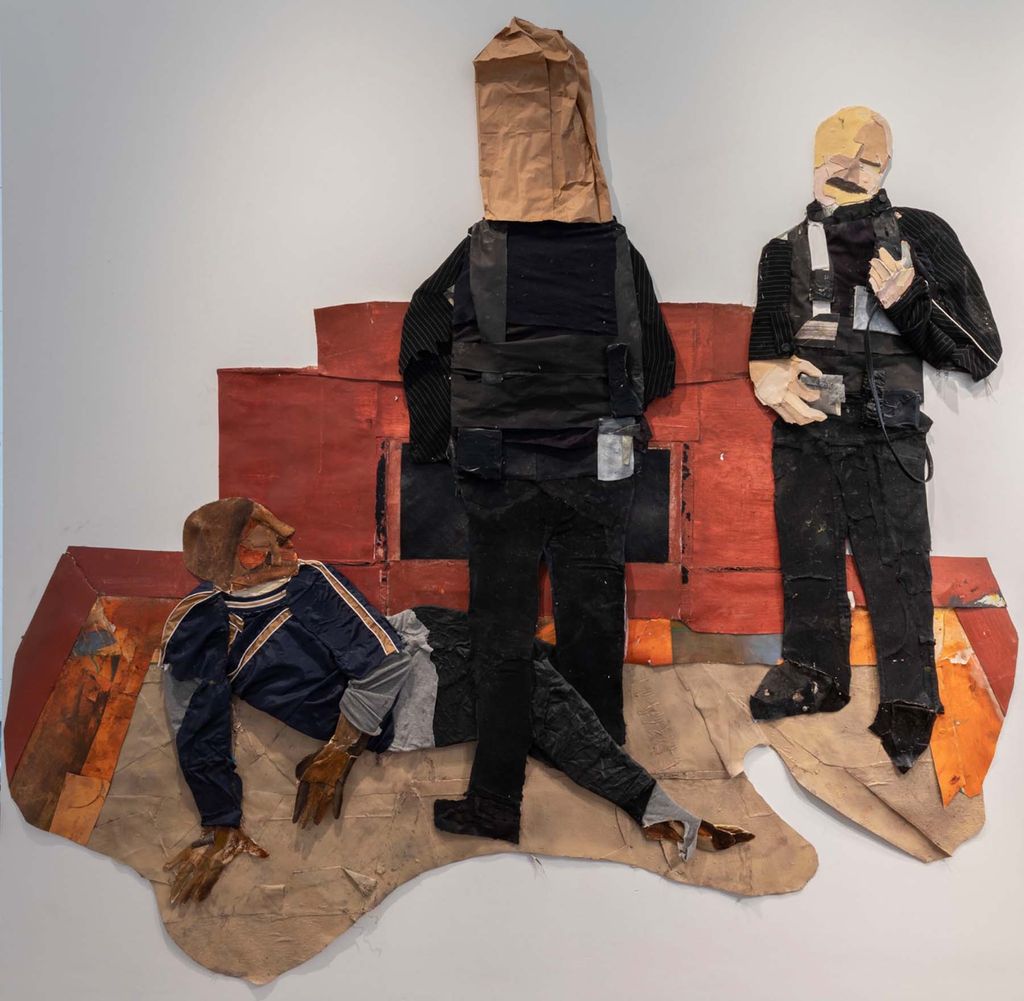 "It's fun going back and forth and making connections in my head," says Morel. "I don't give myself any restrictions."
His collage technique begins with sketching the scene and its inhabitants, which gives him the opportunity to draw on his extensive background in drawing and painting. He thinks of the screen as he thinks of a play: in addition to form, color and shadow, the characters also need costumes and poses and background stories.
"I get a lot of inspiration from artists like Titian and Carvaggio — all those melancholic, melodramatic poses," he says. "It's really fun to try out these positions and dress them up."
Once he has designed a scene, Morel begins integrating his recovered canvases. in the Knocks on the door, for example, he layered discs of marbled black for the dog's glossy coat; in You like me and I'm taboo he composed mottled purples and reds for a woman's skin.
The layering phase "is simply putting canvas on canvas," he says. "I look at people's work and I'm like, oh, this color works well as a skin tone."
The signature scenes he created at CFA are modeled after the streets of the Bronx of his youth. Influenced by his understanding of the urban landscape, he attempted to construct a world where familiar faces haunt local street corners and each character could be your neighbor, your uncle, or you – the types of people not often represented in the art world.
"A lot of people don't understand that the Bronx is the poorest convention area in the city," says Morel. "I want to share my story in spaces that are hyperspecific to how they're understood."
As a student, Morel's sense of observation was on high alert during his trips home to New York. What he saw was a duality between the familiar Bronx of his youth and a place of deepening economic turmoil.
"When I come back, I look forward to seeing my friends and being in this room again," he says. "But I also tend to forget the homelessness and poverty in my neighborhood and how pervasive it is… It's gotten worse over time."
In a case where he was later immortalized The lease of the lobby stove, Morel saw two police officers talking to a homeless man in the front porch of his apartment building. When he told his mother about the incident, she reasoned that the homeless man was most likely looking for warmth on a winter's day.
"It was a bit frustrating for me at first, in a very selfish way, because I was home for recess and didn't want to see that," he says, but his mother's explanation helped him "get rid of the usual experience of seeing these faces and these." body in this situation," helping him empathize with the man seeking shelter from the cold.
"Don't tell that story [through collage] would have been the same as walking by and not telling my mother," he says. "In a way, I was trying to say what she said to me."
---

Many people don't understand that the Bronx is the poorest convention center in the city [my art] becomes a way of showing a voice that cannot be seen.

---
Morel says his greatest artistic motivation is "a sense of place," and his process of constructing theatrical scenes through collage allows him to capture moments in time. He tries to recreate what street photographers like Garry Winogrand and Vivian Maier found by accident.
The irony of this practice is that Morel does not stay in one place for long for several years. Between his four years at DePauw University and his masters program at BU, he had to draw on memory and instinct to create his collages of the Bronx. The tree-lined streets of Boston and the manicured lawns of the Midwest are pretty, he says — and "a necessary change" — but they haven't inspired him the way New York has.
Morel will be on the road again in mid-August. This time he is leaving the Bronx for rural North Adams, Mass., where he will complete a month-long residency at Mass MoCA. He will then head north to Peterborough, NH where his MacDowell Fellowship begins November 3rd.
Will so much time away from the Bronx affect his art? He's not sure, he says, but will remain open to the kinds of places that can inspire him.
"I think it's really going to depend on the moment; Maybe I'll get into it and start designing forests, or maybe I'll long for the city so much that I'll just make brick and concrete," he says. "It's better than anything to leave places of potential growth and feel like you have more to do — just feel like you're not done."
And maybe he'll stop worrying about the future.