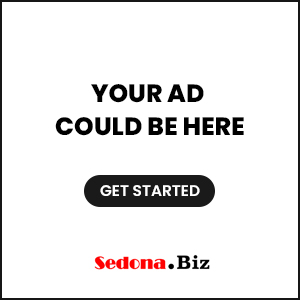 Sedona News – Last month was just the beginning.
Rowe Fine Art Gallery summer exhibition in two parts, A feast for your eyes, began in July with an evening dedicated to the gallery's painters. The fun continues in August when the sculptors and jewelers hit the plate. Enjoy the latest works from Shirley Eichten Albrecht, Liam Herbert, Jennifer Inge, Kim Kori, Alvin Marshall, Erik Petersen, Joel Petersen, Ken Rowe and Joshua Tobey. The show begins Friday, August 5 at 4 p.m. and runs throughout the month.
Shirley Eichen Albrecht is looking forward to her debut insignia, a tall pumpkin resting on a piece of manzanita her neighbor discovered on his property. The front of the gourd features Shirley's intricate weave, capturing turquoise and antique pieces of bone in its web. She chose to highlight the natural markings on the back of the pumpkin using a wood firing technique and different colors of pumpkin ink.
"After much thought and research, I decided on the colors I wanted to use," says Shirley. "What kept coming to my mind was Native American insignia. My research brought me to images of various insignia and I incorporated these colors into the sculpture. There is simplicity but also strength in this piece."
The latest pendant from jeweler and sculptor Liam Herbert, family hug, will be presented in August. Part of Liam's Inspiration Collection, the pendant features two adults and a child in a fierce embrace. August 5th Only, Liam's Bronze, The Sound of Life, will also be issued. The bronze shows a pregnant mother and a child. "The sound of the first heartbeat is a very magical moment for anyone who hears it," says Liam. "I wanted to show the tenderness of a mother and child sharing this precious moment together."
Bronze animal sculptor Kim Kori reminds us that sculptures are made in limited editions that actually sell out. Four of Kim's most popular sculptures have all but disappeared. Everyone's favorite frog in love is sitting on a mushroom inside love. A hummingbird stops to catch its breath on a shiny pear A moment's rest. And a side-spotted lizard looks at a bee on the stalk of a chili pepper heat of the moment.
Camper features a clever mouse riding a box turtle's back with the help of an alluring, juicy strawberry hanging from a stick. "I know about box turtles because I've saved a few," says Kim. "Not only do they love fruit, but they are also very attracted to the color red, which is why strawberries are at the top of their list of delicacies. When I wanted to sculpt a turtle who would be tempted by a berry, I decided someone should operate the "vehicle" and a mouse seemed like the most likely candidate. I used live models for accurate representations of both creatures. I find that my imagination is crucial in my life and I often combine it with reality in my sculptures."
Navajo stone sculptor Alvin Marshall is also known for drawing inspiration from real life for his unique pieces, and his latest sculptures do not deviate from that. Alvin's granddaughter was preparing for a coming-of-age ceremony this summer, leading Alvin to create several small pieces depicting a young girl preparing for the responsibilities of adulthood. The sculptures show the girl running, singing and holding a hummingbird. "Because time is of the essence on these, I'm going to use alabaster," explains Alvin. "I have a permanent supply of it." Alvin will be heading to the prestigious Santa Fe Indian Market later this month, but Sedona residents and visitors don't need to travel to see the latest work by this award-winning artist.
Joel Petersen puts the finishing touches on his third bison sculpture. The new, untitled piece will be approximately six inches high and nine inches wide. Although Joel now resides in Prescott, he grew up in Wyoming where he developed a deep appreciation for the wild bison that call the area home.
Joel's son, sculptor Erik Petersen, who also lives in Prescott, will not be unveiling any new works this summer, but art lovers will still be able to enjoy his ever-popular works No mountain is high enough – now available in two sizes – features intrepid ladybugs scaling a rock pile. Jobfeaturing a spotted owl, and The perfect couplethe ladybug presented on the stalk of a fruit (and almost sold out!) will also be available.
Award-winning bronze nature sculptor and gallery owner Ken Rowe recently decided it was time to get back into action – literally and figuratively. At the fair he will unveil a pre-made piece titled alpha. "In my mind's eye I saw a big wolf racing through the trees," says Ken. "The story I want to convey is about strength, speed and leadership as a wolf leads his pack with confident, powerful strides. I don't know if I can pull this off, but I'll let the viewers judge. You can see for yourself on August 5th."
There are many enticing reasons to visit Rowe Fine Art Gallery in August, including Jennifer Inge's exquisite horsehair jewelery and Joshua Tobey's impressionistic animal bronzes. (Mark your calendars: Joshua will be back at the gallery October 28-29 for his annual solo show.) Bring your appetite for art!
The Rowe Fine Art Gallery represents traditional and contemporary Southwestern artists. The gallery is located under the clock tower in the Patio de las Campanas in the Tlaquepaque Arts & Shopping Village and is open Monday to Thursday from 10am to 5pm and Friday to Sunday from 10am to 6pm. For more information, call 928-282-8877, visit rowegallery.com or find us on Facebook, Instagram and Twitter.