Earlier this month, I stepped out of an elevator and onto the empty fifth floor of a Pioneer Square building with wooden beams, brick walls, and beautiful light pouring in through massive windows.
curators and artists Amanda Manitach and Lele Barnett guided me through the huge room and told me about her vision to fill it: a huge womb that you can climb into here; a repurposed American pro-abortion flag there. All of these works would be called part of their group show show howlingfeaturing large-scale pieces by women and non-binary artists largely concerned with reproductive rights in the wake of the heinous overthrow of the Supreme Court Deer vs Wade.
"It was just a gut feeling," Manitach said of her topic. The two had started planning the show around the time the court decision was leaked to the press.
"That's exactly what curators do," Barnett added. "You have to pay attention to what people are thinking about … It seemed like an obvious choice."
howling is just one of several shows taking place this weekend at RailSpur, a new Pioneer Square "microdistrict" operated by Denver-based real estate developers Urban Villages. Organized by the public arts non-profit Forest for the Trees (FFTT), more than 100 artists and curators are taking over eight floors and the alleyway of a recently renovated building called 419 Occidental—nearly 77,000 square feet of space! The temporary and (mostly) FREE Art/Block Party is running from today, July 21st, through Sunday, July 24th. Held the same weekend as an alternative to the Seattle Art Fair (SAF), FFTT is a hard hitting exhibition of some of the best artists working in the city today.
If you think this concept sounds very similar Out of sight, you are not wrong. From 2015-2017 the Greg Lundgren-led project also occupied a building in Pioneer Square on the same weekend as the Seattle Art Fair to showcase the PNW's artistic brilliance. how Out of sight— on which many of these artists have worked or displayed their work — this RailSpur Arts Activation is just as much about showcasing the wealth of artists that Seattle has to offer.
The seeds for This Multi-storey art festival was seeded about a year ago as FFTT president Gage Hamilton and RailSpur property managers Henry Watson contacted about possible art activations at 419 Occidental. Originally their talks revolved around a ground-floor residence – but about two months ago, Hamilton found that Urban Villages was still looking for tenants as the building was vacant, and he had an idea. "We wanted to fill the entire building with art," Hamilton said in a recent phone interview.
So? He just asked straight out if he could do it – and Urban Villages was up for the project. The micro-district had been redeveloped with Pioneer Square's artistic roots in mind anyway. Watson believed that "there is no better way to capture the boldness and authenticity of the neighborhood than with an art exhibition that brings the community together," he wrote to me in an email. With no rental or usage fees, RailSpur handed over the keys to Hamilton and his close associate Dominik Nieri by ARTXIV. They only had a few weeks to fill the tens of thousands of square feet of empty building space with art.
Instead of curating the gargantuan 419 Occidental all by themselves, Hamilton and Nieri decided to hand each floor to a different group of curators — all mostly from the Pacific Northwest region, or at least familiar with the Pacific Northwest region — so they can do what you want to. "I wanted to offer a variety of experiences and perspectives to give the impression that each floor is different," Hamilton said. "We didn't want something to feel repeated throughout the room."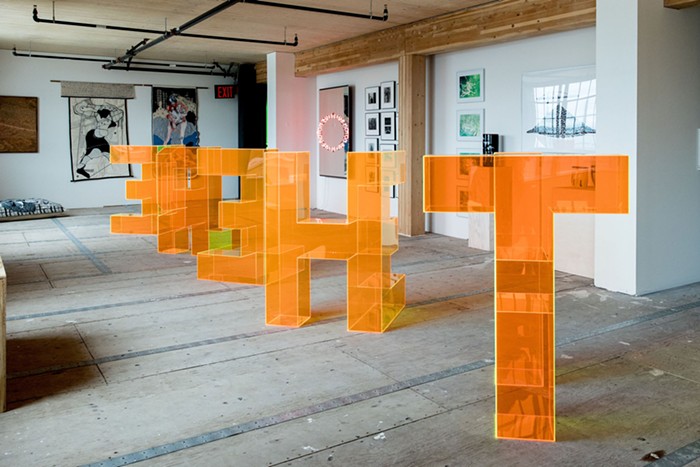 In this way, each floor has its own specific atmosphere. Some just have a unique vision, like the sixth floor, where artists from Oakland and San Francisco live Christopher Martin presents floor-to-ceiling banners from his inaugural exhibition at the Institute of Contemporary Art San Francisco entitled Old as time. In the stairwell, Christopher Derek Bruno installs "Its~Olafur-You+ME", an eight-story light installation.
On the third floor, A Black Art Ecology by Sharita Towne in Portland features the work of conceptual artists Maximilian and rubén garcía marrufo. Gaspar Yanga– named after a freed, enslaved African in Mexico who founded a stranded society in modern-day Veracuz – is a three-channel video that Maximiliano and Marrufo worked on for five years. The immersive work explores queer temporality, black liberation and the idea that time is constantly folding in on itself.
"[Yanga's] story is not a story from 400 years ago, but current and maybe even in the future," said Maximiliano in a recent interview. "So much of black liberation is based on imagining a future. We have to dream it before we can start pursuing concrete things to make it a reality."
Overwhelmingly – and somehow in the spirit of SAF – this weekend is all about group shows with a special focus on local artists. Well, except in Miami Axel Leer's mostly national and international 19-artist presentation on the fourth floor, 12.143, which represents the actual square footage of the room. The press release promises that it "avoids any agenda other than the beauty and absurdity of this event itself." On the ground floor, Hamilton's FFTT gave space to 16 artists, including some big names Stevie Shao and Baso Fibonaccia 7'x7′ blank canvas and told them to go into town.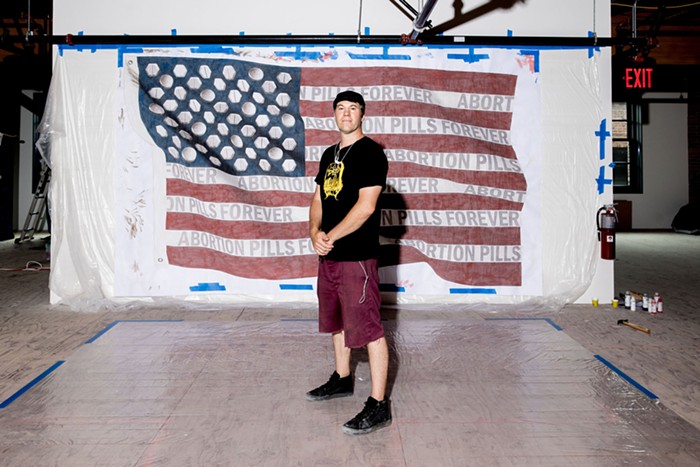 Then we have Manitach and Barnett's spread out howling on the fifth floor. Having attended many art fairs themselves, both have always preferred the satellite shows, "which feel a bit more DIY and tacky and less commercial," Barnett said, versus the crowds in halogen-lit stadiums. Her hope with this 13-person exhibition, which includes many of the works previously shown, is to give visitors a little more time and space with each item. "It's an opportunity for contrast," Manitach said.
As soon as you step off the elevator, you're greeted with one of Manitach's ethereal, 13-foot text-based drawings that use a haunting quote from actress Frances Farmer. Near the distant windows is a partial restaging of Jite Agbros "PLUA" which acquired MadArt earlier this year. Participants can also climb into a giant red womb – cleverly titled "Where are you from?".—prepared by Fumi Amanoin case you missed it in September's Method Gallery. In the meantime, Amanda James Parkers Inspired by Félix González-Torres, Untitled (Portrait of Félix González-Torres) fills an entire hallway with balloons for visitors to take away throughout the weekend.
XO Seattle has perhaps the most ambitious group show in the building; It runs for a month and costs $10 to enter. Designed and curated by Julianne Johnson and Austin Bellamy Hicks from SERIES 001, this "love letter" to PNW's creative community, features over 80 artists over two floors and 14,000 square feet of space. "We couldn't resist," laughed Johnson. "We made it the biggest show we can imagine."
Johnson and Hicks have put together a mix of painting, sculpture, neon, murals and sound baths. On a high wall above space Nikita Ares has installed four huge paint-soaked paintings. Right in the middle of the floor, gallery Greg Kucera borrowed one Dan Webbs masterfully goopy wood carvings to bless the exhibition. Emily counts has assembled a sculptural garden from her whimsical ceramic works, which capture the light from a nearby window.
co-curators Moses sun and Photon Factory Eric Molano brought their own specific flavors to the show. Sun assembled a Vivid Matter Collective Pavilion showcasing the work of artists who painted the Black Lives Matter mural on Capitol Hill. Molano was responsible for immersive installations and curated a light and color therapy installation by Rosie Alyea called Double Rainbow. "It's the perfect opportunity to actually have a new canvas," Molano told me of the XO Seattle space.
With its numerous installations and media clash, XO Seattle's overwhelming focus for this exhibition is having a good time. La Dive will be cranking out the booze at a month-long pop-up bar, Hrvst House will be DJing the tunes at their opening event on Friday night, and the folks at XO Seattle are bringing the viiiiiiibe together.
"A big part of the way we present art is that it's a party," Hicks said. "We're trying to break away from the gallery and museum system and show that you can have something as sophisticated as a gallery or museum, but it can be just a little bit looser."
---
The massive takeover of Forest for the Trees 418 Occidental is taking place from today through Sunday 24th July. It's all free except for XO Seattle, which runs for a month and costs $10 to enter. Learn more about the entire endeavor here.