content of the article
Over the weekend I made another foray into Gananoque, this time visiting the VAGA Gallery (where VAGA stands for Visual Artists of Gananoque and Area), which was a very pleasant change. The VAGA group was founded in 1993, which certainly makes it one of the oldest arts groups in this region, and its membership is made up of artists working in a variety of media with different themes and styles. The gallery itself is run collaboratively, with a member artist available each day to greet visitors and answer their questions (the gallery is closed during the winter months).
content of the article
There is always a good mix of artworks at VAGA Gallery, with the exhibition being heavily weighted towards representational paintings and drawings, although some abstract and non-representational paintings as well as sculptural works are also on display. Items change frequently as pieces are sold and new works are brought in. Additionally, member artists are expected to bring fresh new art to the gallery each spring after the winter break. Walk into the gallery and you'll find work on a mix of subjects (landscapes being a favorite) by artists of different calibers – which just means they're in different places on their artistic journey.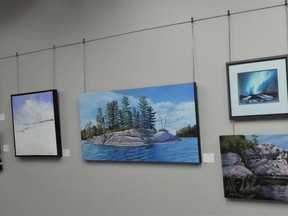 In fact, my visit to the VAGA gallery made me think more than anything – that making art is a journey for every artist, from each individual work to the larger arc of their artistic output or career, and that it takes courage to To make art and, above all, to display it in public. You see, many artists are passionate people – they have a passion for their art, for their subjects, for the media they work in, maybe for the idea they want to convey. At the same time, art can be a very personal expression that arose out of the need to get something out of your own system. On the other hand, making art can also be a simple pleasure, with great satisfaction in creating something beautiful that can be seen, or that evokes a certain reaction in the viewer, or serves as a reminder of a place or time.
content of the article
Whatever the motivation, it can be difficult to put that creation into the world where it's open to judgment, criticism, and opinion (which, if you're very sensitive, sure can feel very personal). There can also be pressure on the artist to "get it right" and perhaps be validated as an artist by peers, considered comment, criticism and/or praise. Honestly, it takes courage to publish this work of art. And depending on the style and approach, there are different factors to consider to decide whether an artwork is "successful" or not.
Artworks that are representational (it looks like something), whether highly realistic or not, are usually expected to follow certain conventions, including the correct application of: perspective, proportion, shading, color, balance, rhythm, etc. All of this is quite difficult.
Abstract art (it is an "abstraction" from something real) also follows some of these conventions, particularly for example compositional balance. The rules aren't thrown out the window when abstraction is used, because you need to understand these artistic conventions thoroughly before turning them on their head (although there should be good reason for it, I think). The point of abstraction isn't just to make something look different or weird.) Abstraction is also difficult.
It may be that non-representational art (it doesn't "look" like anything real, although viewers often try to "see" something in it) is just as difficult as any other form (perhaps more difficult). The composition still has to work, and the color and other conventions still have to be adhered to to some degree so that the painting/drawing isn't a messy blob of paint or the sculpture isn't a boring blob of something else. How do you paint emotions, for example? That must be difficult.
content of the article
All this is not to say that one style or approach to art is better or more complex than another. As an artist pursues his artistic path—trying different themes and styles, experimenting with different approaches and techniques, discarding some and honing others—he will fail and he will succeed. Most will probably agree that they only "get it on point" with an artwork 20% of the time (if at all), with the remaining 80% ranging from "I'll use this canvas again" to "this is pretty good". , but lacks that stop-the-spectator-on-the-rails factor". The canvases that are candidates for reuse don't usually make it to the gallery walls, but some of the others do, and that top 10-20% can really slow you down.
What I like most about the VAGA gallery (and others like it) is that you have the opportunity to see the artistic output of artists at different points in their creative journey – and it takes courage to open them to the public . So kudos to the artists at VAGA Gallery, hold on to your artistic passions.
Kamille Parkinson holds a PhD in Art History from Queen's University and is currently a copywriter, non-fiction writer and art historian. You can find her on LinkedIn at www.wordpainterprojects.com or contact her at: wordpainterprojects @ gmail.com
art about the city
Agnes Etherington Arts Center: https://agnes.queensu.ca
Gallery Raymond: (1) Raymond Gallery | Facebook
Raymond Gallery
MAK Gallery: makgallery.ca
Modern Fuel Artist Run Center: Home | Modern Fuel Artist Run Center
O'Connor Gallery: (1) O'Connor Gallery | Facebook
Studio 22 Open Gallery: Studio22 – Open Gallery – Ideas Manufactory
Union Gallery: UNION GALLERY (queensu.ca)
VAGA gallery: Home – VAGA Gallery
Gallery window art: Window Art Gallery – KSOA