BOONE, NC – Appalachian State University Annual Summer Arts Event, An Appalachian Summer Festivalcloses its 38thth Season with MOMIX: Alice, Saturday, July 30 at 7 p.m at the Schaefer Center for the Performing Arts. Internationally acclaimed dancer-illusionists MOMIX conjure up the magical worlds of the White Rabbit, the Mad Hatter and the Queen of Hearts in this stunning reinterpretation of Lewis Carroll's novel. Travel down the rabbit hole with MOMIX and the visionary choreography of MOMIX Artistic Director Moses Pendleton, who founded the company 42 years ago. Imbued with visual splendor and stunning creative movement, Alice reveals that nothing in the world of MOMIX is what it seems!
Tickets are $35 for adults, $20 for students, and are free for children 12 and under with the purchase of an adult ticket. Purchase tickets on Appsummer.org, in person at the Schaefer Center (733 Rivers St.), or call the box office at 828-262-4046.
Alice – coming to Boone fresh from its July premiere at the Joyce Theater in New York City – features dazzling use of multimedia, theatrical inventions, stunning lights, lavish costumes and intoxicating sounds, creating a dance experience like no other. Inspired by Lewis Carroll's classic novel, the critically acclaimed production is reimagined through MOMIX's typically energetic and acrobatic language, with heaps of illusions, psychedelic imagery and special effects.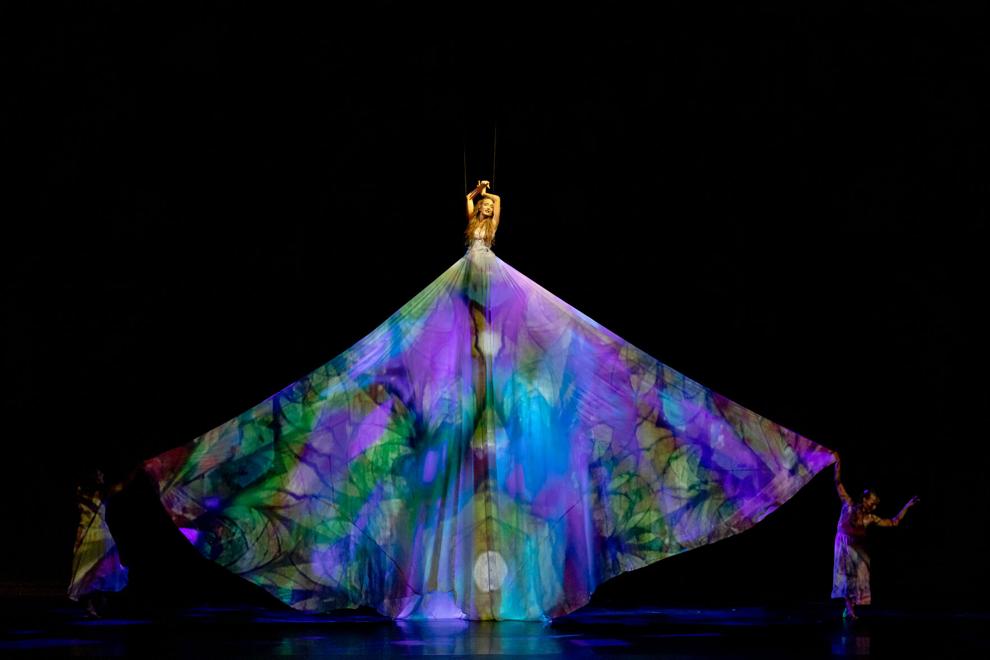 "Momix: Alice is as close to perfection as anything I could imagine in my wildest dreams." -Broadwayworld.com
"MOMIX has proven that 42 years later it can still delight an audience with its use of movement, lighting, props, puppets and talented performers." – LA Dance Chronicle
"It's a triumph of imagination, illusions and special effects, a stunning show that is an endless metamorphosis in which all the dancers are protagonists." —TheWonderfulWorldofDance.com
Alice herself is played alternately or all at once by the entire female company and even by a collection of puppets in the vignettes that follow Alice falling down the rabbit hole where she encounters different versions of herself. During the 90-minute performance, 1970s-style kaleidoscopic projections magnify nature; a gallery of mysterious characters constantly comes to life – from spiders and rabbits to the inevitable Queen of Hearts; and the costumes, strange and wonderfully crafted works of art, transform the dancers from one character to another. The soundscape, curated by Pendleton, includes a musical collage of tracks by such iconic artists/composers as AR Rahman, Danny Elfman, Franz Ferdinand and Gotye, as well as a scene-stealing, in-your-face number by Jefferson Airplane/Grace Slick.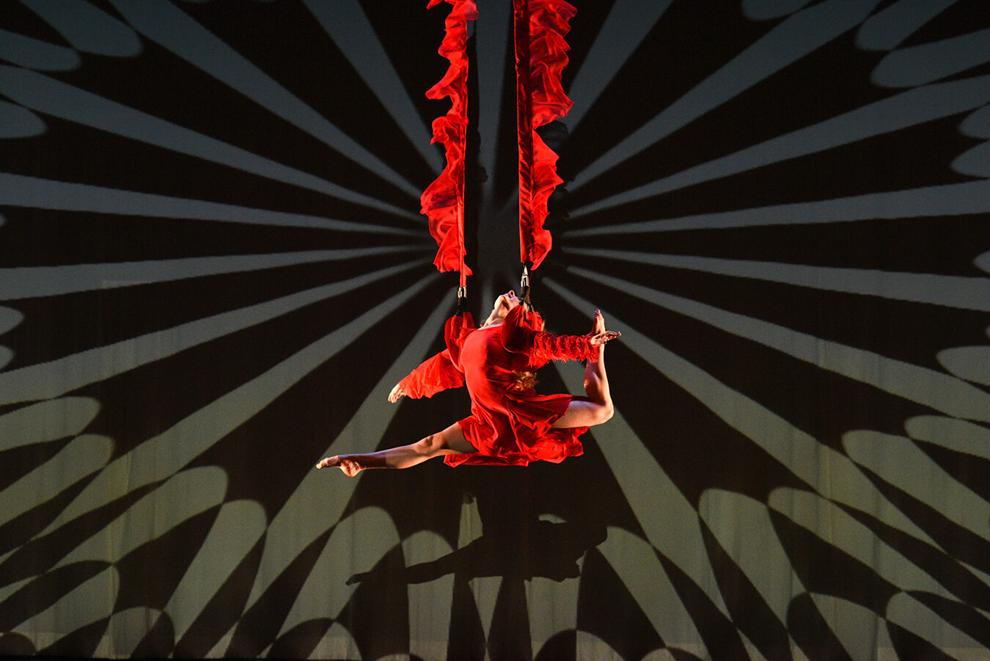 tickets
$35 Adults, $20 Students, Free for children 12 and under with purchase of adult ticket. Purchase tickets online at Appsummer.org, in person at the Schaefer Center (733 Rivers St.), or call the box office at 828-262-4046.
Performance sponsorship is provided by Chuck and Anna Eyler.
About MOMIX
MOMIX is internationally renowned for presenting works of exceptional inventiveness and physical beauty. MOMIX is a group of dancer-illusionists led by Moses Pendleton. In addition to stage appearances around the world, MOMIX has worked in film and television, recently starring in a national Hanes underwear commercial and a Target commercial that premiered during the airing of the 67th Annual Golden Globe Awards. The company's repertoire has been broadcast in 55 countries, with appearances on the PBS "Dance in America" ​​series, French Antenne II and Italian RAI television. Joining the Montreal Symphony in the Rhombus Media film directed by Mussorgsky pictures of an exhibition, winner of an International Emmy for Best Performing Arts Special, the company's performance was distributed on Laser Disc by Decca Records. MOMIX was also featured in INTRODUCE, one of the first 3D IMAX films to be shown in IMAX theaters worldwide. MOMIX dancers Cynthia Quinn and Karl Baumann played the role of "Bluey" in the feature film directed by Moses Pendleton FX2; and "White Widow," co-choreographed by Moses Pendleton and Cynthia Quinn, was featured in Robert Altman's film The enterprise. Participation in the Homage to a Picasso in Paris, MOMIX was also selected to represent the USA at the European Cultural Center in Delphi.
With the support of the Scottsdale Cultural Council Scottsdale Center for the Arts in Scottsdale, Arizona, Mr. Pendleton created "Bat Habits" to celebrate the opening of the San Francisco Giants' new Spring Training Park in Scottsdale. Commissioned by companies including Fiat and Mercedes Benz, MOMIX performed at the month-long celebration of Fiat's 100th anniversary in Turin, Italy and at the Mercedes Benz International Motor Show in Frankfurt, Germany. With nothing but light, shadow, props and the human body, MOMIX has amazed audiences on five continents for more than 40 years.
About an Appalachian Summer Festival:
Presented by Appalachian State University's Office of Arts & Cultural Programs, this annual celebration of the performing and visual arts takes place each July at venues across the university campus and features an eclectic, diverse mix of music, dance, drama, visual arts and movie programming. An Appalachian Summer Festival began as a chamber music series in 1984 and retains its strong roots in classical music combined with a variety of other programs catering to almost every artistic taste and preference. With 28,000 spectators, the festival has been named one of the "Top Twenty Events in the Southeast" by the Southeast Tourism Society in recent years. With ticket prices ranging from $20 to $50, plus multiple free events and special ticket offers, the festival offers residents and visitors unique opportunities to create art experiences that suit their individual artistic tastes and budget.
The 2022 festival dates were July 1st to 30th. Visit AppSummer.org to view the full calendar listing.
Corporate sponsors:
Bonnie and Jamie ShepherdMcDonald's of Boone, Mast General Store, Goodnight Brothers, Explore Boone, SkyBest Communications, Appalachian Home Care LLC, Berkshire Hathaway HomeServices Vincent Properties, PEAK Insurance, PNC Bank, Appalachian State University Bookstore, Peabody's Wine & Beer Merchants, Creekside Electronics, Courtyard by Marriott, Chetola Resort, Hampton Inn & Suites, Holiday Inn Express-Boone and The Horton Hotel.
Media Sponsors:
WBTV, WCYB, PBS North Carolina, Our State Magazine, Creative Loafing Charlotte, YES! Weekly, Winston-Salem Journal, Greensboro News & Record, WNC Magazine, The Mountain Times, Watauga Democrat, High Country Radio, WHKY 1290AM and 102.3FM, WDAV 89.9FM, WFDD 88.5FM, WASU 90.5FM and WKSK The Farm.