Society has long led us to believe that women can be wrapped in binaries, that they cannot exist as complex beings with minds of their own. That they must be instructed to exist as if they had no agency and could not make decisions of their own accord. Women are always expected to be superb contortionists who can shapeshift and evolve to fit an "ideal" version of themselves that fits the male gaze.
From portraits to photo exhibitions, the female form has long been a central muse that photographers grapple with. Male gaze fetishism aside, there is a new wave of Indian photographers trying to explore the female form from a creative point of view through their work. Here are four such creatives championing women in all their flawed, complex, and wondrous glory.
I. Dissonant bodies by Farheen Fatima
Chandigarh-based self-taught photographer and visual storyteller Farheen Fatima creates narratives that explore the female form, nature and human relationships. She explores these themes through her photographic practice as well as through rhythmic illustration. In her latest series "dissonant bodies She explores the issue of the societal and internalized fat phobia that gives women the need to be "small" in order to belong or to be desired. Srishti Bose explained the concept of the shoot as follows: "Of all the words I know, the adjectives I put next to my body were the most cruel. How incredible the geometries of the body are. How painful are sometimes the stories we inscribe to them. Fat women are taught that our greatest wish is to be small, that the most beautiful thing that can happen to our bodies is when someone loves them despite their size. We are generation after generation of women squeezing into clothes, places and people that make us feel small, because all that makes us feel wanted is, as Rachel Wiley would put it, "a novelty".
II. Madhumalti and Her Garden of Secrets by Aastha Manchanda
Aastha Manchanda is a visual artist and photographer based in Goa, India. She is honing her skills in building narratives around still lifes and is constantly trying to make art with a heartbeat. She taps into the subconscious and illuminates human insecurities and vulnerabilities through the beauty of flowers. Her photographs breathe life into inanimate objects and depict a utopian world in which she resides in her mind. Her latest photo project goes in the same direction 'Madhumalti and her Garden of Secrets exists. Speaking of the project's concept, she said: "The narrator's alter ego was christened Madhumalti (a vine with red flower clusters). She runs wild through the woods picking flowers to find solace in her moments of loneliness. Inspired by the cinema of Wong Kar Wai, the ongoing series explores hidden emotions and stillness in isolation. It reveals the strange comfort of melancholy and implants narrative puzzles."
III. Lakshmi redesigned by Sangeeta Bharali
Assam-based visual artist Sangeeta Bharali enjoys exploring and experimenting with art, history and fashion and seeing it all come together in her images. The Photo Project'Lakshmi reinterpreted was part of her personal styling project, experimenting visually with styling mythological and historical characters. Speaking of the project, she said: "This one is inspired by the Hindu goddess of wealth and fortune, Lakshmi. Adhering to early culture and rituals, I adorned the goddess with layers of cowrie shells. Cowries have represented wealth and prosperity since ancient times and are also a sacred symbol of abundance and love due to their unique vulva-like appearance and because they originate from the ocean."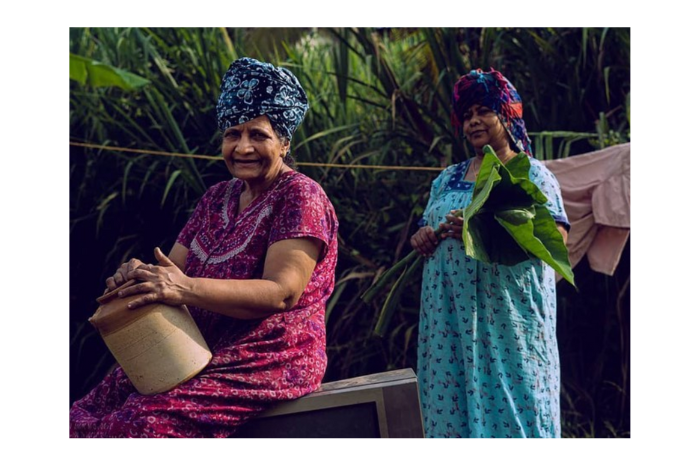 IV. Tropical Mamas by Sachu James
Kerala-based visual artist Sachu James has always believed that our stories have the power to transcend boundaries and make people see that we are essentially one. Drawing inspiration from his personal life, he is able to weave narratives that offer insight not only into his life but also into human connectedness. For his latest photo project Tropical Mamas He was inspired by his mother's strength and resilience. Speaking of the project, he said: "My mother's life took a sharp turn when she lost her eyesight after an operation a few years ago. My aunt, on the other hand, was diagnosed with schizophrenia at a young age and has lived with us ever since. At a time when everything seemed to be ending for us, they showed tremendous strength and resilience."
Adding: "I've seen these women, flawed in the eyes of society, manage to thrive in the face of adversity. In their quiet rooms, they pour love into each other's empty corners. Together they transform our home into a place of beauty and magic. Tropical Mamas is an ode to both of my moms, their camaraderie and the depth they bring to our lives."
If you liked this article, we also recommend you:
The Indian-born photographer combines 1960s Bollywood glamor with gender and identity
Tarun Chouhan's new photo series captures the romance of the '80s and the magical charm of first encounters
Conceptual photo projects weaving narratives through fashion and storytelling