Preserving the Past and Adapting to the Future in Lafayette, Louisiana

Located in Lafayette, Louisiana, Bottle Art Lofts provide affordable rental housing for people involved in the creative industries. The project helps support an important sector of the local economy and is characterized by its resilience properties, developed in response to severe flooding in 2016. Image copyright: HRI Communities, LLC.
In 2016, southern Louisiana was hit by significant flooding, prompting efforts by federal, state, and local governments aimed at both recovering from the floods and ensuring resilience against future disasters. In the city of Lafayette, an affordable housing project, Bottle Art Lofts, combines new best practices in flood-resistant construction with neighborhood revitalization and heritage preservation to create 105 residential units in a former Coca-Cola Company bottling plant. Developer HRI Communities completed the project in two phases with a total development budget of approximately $32 million. By giving priority to tenants who work in the arts or other creative fields, Bottle Art Lofts helps support local culture in Lafayette.
Affordable artist housing
The first phase of Bottle Art Lofts, completed in 2021, involved the refurbishment and repurposing of the Coca-Cola bottling plant originally built in 1936. , and Community Development Block Grant Disaster Recovery (CDBG-DR) program funds supported the construction of 35 one-bedroom units and 5 two-bedroom units, including 2 units designated as permanent support housing. The permanent housing units are restricted to those earning less than 20 percent of the area's median income (AMI), and the remaining units are restricted to renters earning 50 or 60 percent of the AMI.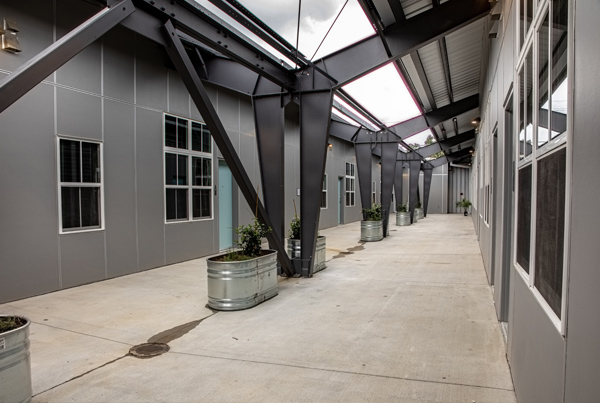 The site's original use as a Coca-Cola bottling plant allowed for unusual architectural features when converted into apartments. This courtyard is formed by two former warehouse buildings. Photo credit: HRI Communities, LLC.

The second phase, completed in 2022, relied primarily on funding from LIHTC and CBDG-DR. This phase is entirely new construction and is home to 54 one bedroom units and 11 two bedroom units.
Bottle Art Lofts favors tenants who are involved in creative fields, including visual artists, musicians and food industry workers. Josh Collen, President of HRI Communities, reports that Lafayette's strong creative culture is preparing Bottle Art Lofts residents for future success. In similar HRI Communities projects, many residents who work in the creative industries eventually move out of their affordable rentals because they were able to save up for a down payment on a house, Collen says.
A gateway to Lafayette
Building a path to resilient apartment buildings
After the 2016 floods (and a series of devastating hurricanes), the state of Louisiana established the Piggyback Resilience Initiative Mixed Income (PRIME) program to direct federal CDBG-DR funding to mixed-income multifamily housing projects that "incorporate resilient building practices who use materials and techniques that increase a structure's ability to withstand adverse weather conditions."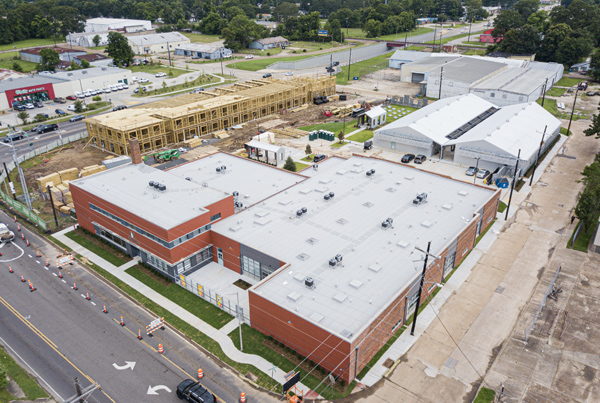 Funding for this two-phase project was funded by state and federal historical tax credits, low-income housing tax credits and the state's PRIME program. Here the former bottling plan is in the foreground, the warehouses to the right at the back of the site and the building for the second construction phase is still under construction (completion 2022). Photo credit: HRI Communities, LLC.
The funding, designed as a loan, is aimed at parts of the country that were badly affected by the 2016 flood. Collen credits the program with establishing a sustainable method of funding the construction of buildings that can withstand severe weather. Operating income from the funded projects is reinvested in PRIME and is then available to fund future projects.
In addition to government funding efforts, the development of resiliency standards has provided the necessary benchmarks and guidance for developers looking to increase the resilience of their projects. According to Collen, many existing load-carrying standards were neither appropriate nor suitable for multi-family housing construction. In early 2022, the Insurance Institute for Business & Home Safety expanded its FORTIFIED program to include standards for resilient multifamily homes that go beyond the code, and Bottle Art Lofts was the first project to receive Gold Level certification under the expanded projects.
To support the development of buildings that withstand severe weather, Enterprise Green Communities have created standards that define "Design for Resiliency," which requires, among other things, stormwater management capabilities. Despite being on a site outside of the 500-year-old floodplain, Bottle Art Lofts maintains these standards. The reason, Collen says, is that while Bottle Art Lofts are relatively safe from flooding, they must not overload the city's water management infrastructure by shedding heavy rainwater too quickly.
Bottle Art Lofts is steeped in Lafayette's history and plays an active role in protecting the city's future. It provides an affordable and professionally supportive home for the city's artists, contributes to the regeneration of the neighborhood and is a leader in showing how new policies and building standards can support communities affected by climate change.
Interview with Josh Collen, July 8, 2022. ×