Richard Horstman (The Jakarta Post)
Denpasar ●
Wed, August 10, 2022

2022-08-10
14:00
0
b2587592dd54281f57bdb7dba90d8871
1
Art and culture
Gede-Sukarya, Art Exhibition, Balinese Art, Balinese Artist, North Bali, Artwork
Free

Gede Sukarya has a natural affinity for cows, a highly revered animal in his culture and in his village of Bulian in northern Bali. His exploration of the potential of cowhide beyond iconic traditional conventions opens up new possibilities in contemporary artistic expression.
Belulang (cowhide in Balinese) maintains a distinction as an essential element in the religious rituals of the Balinese Hindus. Leather-based ceremonial items are widespread, with wayang kulit shadow theater being one of the most well-known rituals still practiced today. Belulang turns into highly decorative features of barong (lion-like creature and character in Balinese mythology) and topeng (colorful mask) performance pieces and headgear. The skin contains a philosophical dimension honored with spiritual values. The hide is processed untanned using strict methods to preserve its sacred integrity.
Born in 1995 in Bulian, Buleleng Regency, Bali, Sukarya's village adheres to an unusual ancient custom. Aci Bulu Geles is an ancestral sacrificial ceremony with cows that every village boy must attend. Raised with a close connection to domesticated animals, Sukarya discovered an intuitive calling to explore belulang as an artistic medium.
The result of Sukarya's May 2022 artist-in-residence programme, Rasidency, was recently exhibited at Gelombang Studio, Batuan. SKIN & SHADOWS: A Visual Study of Buleleng Ornament Style, which ended July 31, featured nine works featuring flora, fauna and figurative motifs in an expressive style he is credited with pioneering in the medium.
The works were lit to emphasize silhouettes, demonstrating Sukarya's ability to achieve intricate shapes that set the reflected shadows ablaze. The interaction between the negative and positive spaces in his compositions was particularly strong. A number of drawings and monochrome prints were also exhibited.
Detailed touch: Pictured is "PAUM (Meeting)" 2022 by Gede Sukarya. Inspired by the visual impact of wayang theater, Gede Sukarya's works are highlighted to reveal his intricate technical achievements. (Courtesy of the Gurat Institute) (Courtesy of the Gurat Institute/Courtesy of the Gurat Institute)
Rasidency, a collaboration between the Gurat Art Project, an initiative of the independent Balinese cultural research group Gurat Institute, and the Ruang Antara Studio, is a significant new addition to the Balinese arts infrastructure. The program offers Balinese artists the opportunity to develop their ideas through literature, field studies and organized and informal discussions over a month, culminating in an exhibition of their work.
"My introduction to working with cowhide came in 2018 through a friend's father who is a traditional leather carver. However, I found it difficult and tiring, especially on my eyes and neck because the carvings are small," Sukarya said The Jakarta Post.
"I stopped temporarily and then started working with another doll artist in Denpasar with greater commitment.
"During my bachelor's degree in Fine Arts at the Indonesian Art Institute [ISI] in Denpasar I started an internship program focusing on belulang. I chose the material as the artistic subject of my final project evaluation at ISI in 2019," he said.
Sukarya showed early artistic talent in elementary school and continued to develop his skills and ideas by exploring cultural norms through painting at the Sukawati High School of Visual Arts.
"One of my goals during Rasidency was to uncover deeper aspects of my artistic identity. Hence, I was forced to embrace the traditional North Bali stone carving styles known as blelenganthat are unique to the Regency."
Sukarya was able to consult the archives of the Gurat Institute Nglesir Visuala 2009 documentation of architecture and sculpture in the blelengan Style.
"My field research took me to temples in Buleleng and my village to observe and sketch the carving style. That blelengan The style is shaped by what the artists see in nature around them."
In comparison, the carving styles of southern Bali are defined by patracultural guidelines that describe how decorative patterns of flowers and foliage can be expressed.
"blengan avoids symmetrical compositions and allows the carvers to emphasize the exuberant floral motifs with larger leaf sizes and other related designs of the vines. The individuality of the artist can shine through," explained Sukarya.
"The Rasidency program evolved in response to artists' desire to explore and develop their ideas together in a spirit of collaboration with the Gurat Institute," explained a Gurat Institute researcher Vincent Chandra.
"There is no strict format. The artists work at the Gurat Headquarters at Ruang Antara Studio, Batubulan. They are supported by our archives, networks, research trips and human resources to enrich their ideas. Gurat's goal is to set them on the right path."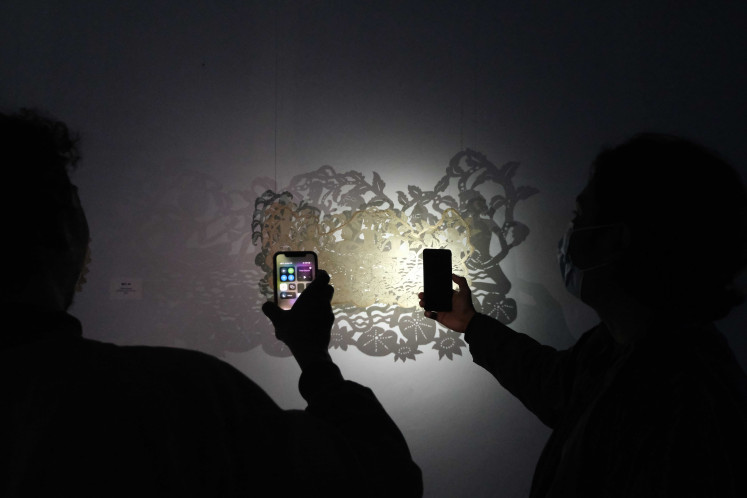 Art Enthusiasts: Exhibition visitors use flashlights on their handheld phones to highlight Gede Sukarya's cowhide carving. (Courtesy of the Gurat Institute) (Courtesy of the Gurat Institute/Courtesy of the Gurat Institute)
The technical process of Sukarya requires patience and skill. The composition is first sketched on the medium, then with a hammer and pangotok (chisel), the skin is incised. A single job can take a day or two.
"The character of cowhide differs from other media in terms of texture and natural color. It is a test medium to process into a work of art. The high price of leather is also a challenge, so I often use the leftovers given to me by artisans. Sitting for a long time while carving puts stress on my body and causes fatigue," he adds.
"The biggest benefit of the residency for me was the introduction of research into my creative process. So far I've worked in the studio without bringing thematic depth to the work, which was only possible through research. This process will influence and enhance my future work. Interaction and feedback with other artists and friends throughout the program was also valuable."
The Gurat Institute began researching and archiving Balinese art and culture in 2014 and has evolved by becoming increasingly interactive and helping to fill gaps in the local arts infrastructure. Rasidency helps to explore new possibilities within Balinese contemporary art expression. Sukarya's creative exploration opens the door for others to continue experimenting with traditional media and fresh and culturally relevant thematic content.