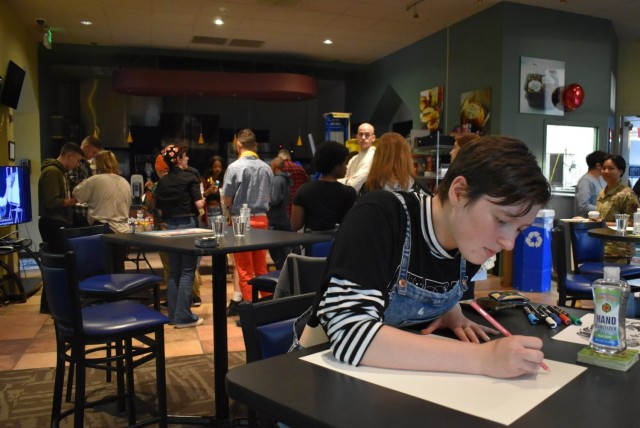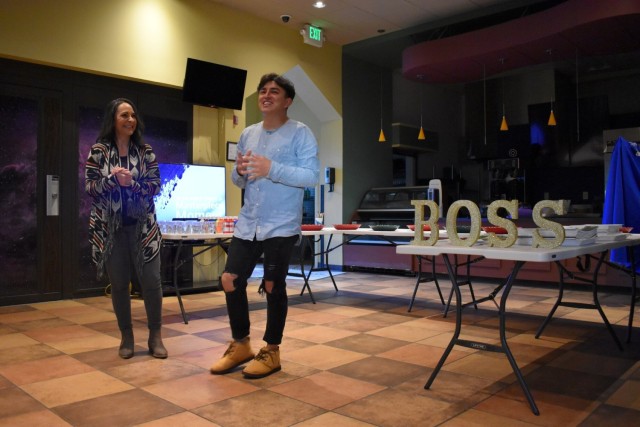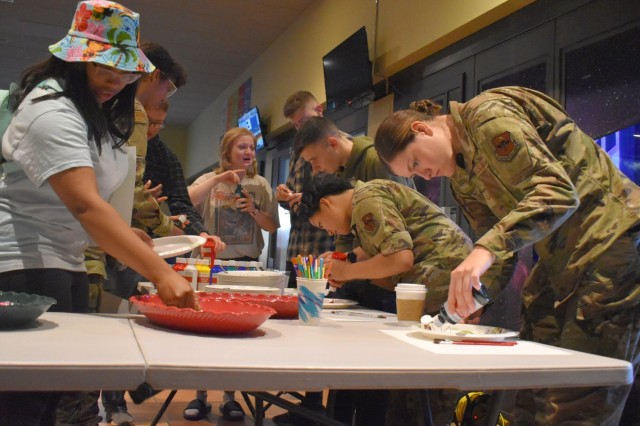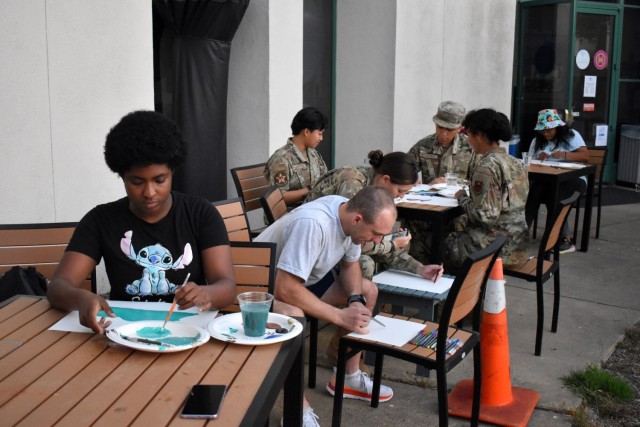 PRESIDIO OF MONTEREY, Calif. (September 21, 2022) – Active duty members of the Presidio of Monterey experienced "The Joy of Painting" on September 16 thanks to Better Opportunities for Single Service Members and the Army Community Service Family Advocacy Program.
Jillian Santillanez, FAP victim advocate, taught service members relaxing breathing techniques prior to the event, showing them how to relieve stress and increase the flow of oxygen to their brain to enhance creativity.
"The idea behind this event tonight is to promote and provide information about stress management and reduction," Santillanez said. "Anyone who is creative is welcome here, and anyone who isn't creative but just wants to make something with their hands is welcome here."
Service members used a wide variety of art supplies—paints, crayons, and markers—to create beautiful works of art. Those who did not feel like creating an entire work themselves could also choose from a variety of creative coloring books designed for adult relaxation. Others might follow along with an instructional video by Bob Ross on how to paint.
More than 30 service employees attended the event at the Hobson Recreation Center, which is also the location of BOSS headquarters. The Presidio is home to the Defense Language Institute's foreign language center, which includes military personnel from all branches of the military. For most of them it is the first military assignment after basic training.
Santillanez taught soldiers breathing techniques such as "box" breathing, a four-step technique based on a series of four counts.
Hugo Ambriz Tena, Advisor on Better Opportunities for Single Service Members and Recreation Specialist for PoM Family and Morale, Welfare and Recreation, said BOSS sponsored the event to help service members relieve stress and find a creative outlet.
"We're able to take their minds off the class and just have them here to focus and open their minds to creativity," Ambriz Tena said. "I always want BOSS to be an outlet for them to de-stress and take care of themselves more than anything and just hang out and meet people."
Meeting people can help service members inside and outside of the classroom, Ambriz Tena said, because service members learning the same language can help each other — especially when one is at a higher level of instruction. The organization had also planned a target-language karaoke event later in the evening.
Santillanez said what she wanted most of all was for students to be decompressing and creative, and they did.
Airman Basic Colin Caviness said one of the reasons he decided to participate was because he went for a walk near his barracks almost every evening and wanted to paint the sun he sees setting behind a hill.
Caviness was painting for the first time, and although he modestly said he had hoped for a better result, he plans to try the breathing exercises again in hopes of being able to replicate the relaxing experience he had when Santillanez taught them .
Airman Basic Serena Perkins said she attended because she enjoys painting, but hasn't for a while, and the event allowed her to exercise the creative part of her brain.
"I had a lot of fun," said Perkins. "I haven't had a chance to do anything like that in a minute, so it was really nice."
Airman Basic Elodie Hollant said he has never painted before in his life but enjoyed the event and seen him use the breathing techniques when stressed.
Hollant said he enjoyed finding out where his mind had taken him while painting.
"I chose abstract art," said Hollant. "I like the fact that if I draw a few lines, something bigger develops. I'm only now noticing the human form and some figures. I never wanted to draw her, but that's what it said on paper."
Stay tuned for upcoming PoM BOSS events at https://presidio.armymwr.com/programs/boss